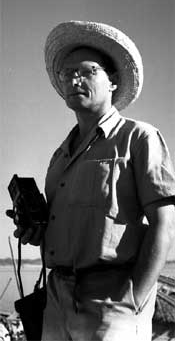 Pierre Edouard Leopold Verger 1902-1996, was born in Paris into a bourgeois family. Since early childhood he rejected the social rules imposed by his class, and in 1932, after his mother's death and free from family obligations, he chose a life of constant travel around the world.
By 1946 he had started his research on the reciprocal culture between the Gulf of Benin, in Africa, and Bahia de Todos os Santos, in Brazil.
Although he had not even finished secondary school, he was awarded a 3rd cycle Doctor's degree from the Sorbonne for his dissertation "Flux et reflux de la traite des negres entre le Golfe du Benin et Bahia de Todos os Santos du XVIIIe au XIXe siècle."
In 1954, having already been initiated by Mãe Senhora at the Opô Afonjá holy circle, he was confirmed Oju Obá the eyes of Şàngó. During the following years he was appointed Otun Mogba at the Opô Aganju holy circle by Gather Balbino. He also taught at the Universidade Federal da Bahia.